Ningaloo Odyssey - 4-Day Trek & Kayak Expedition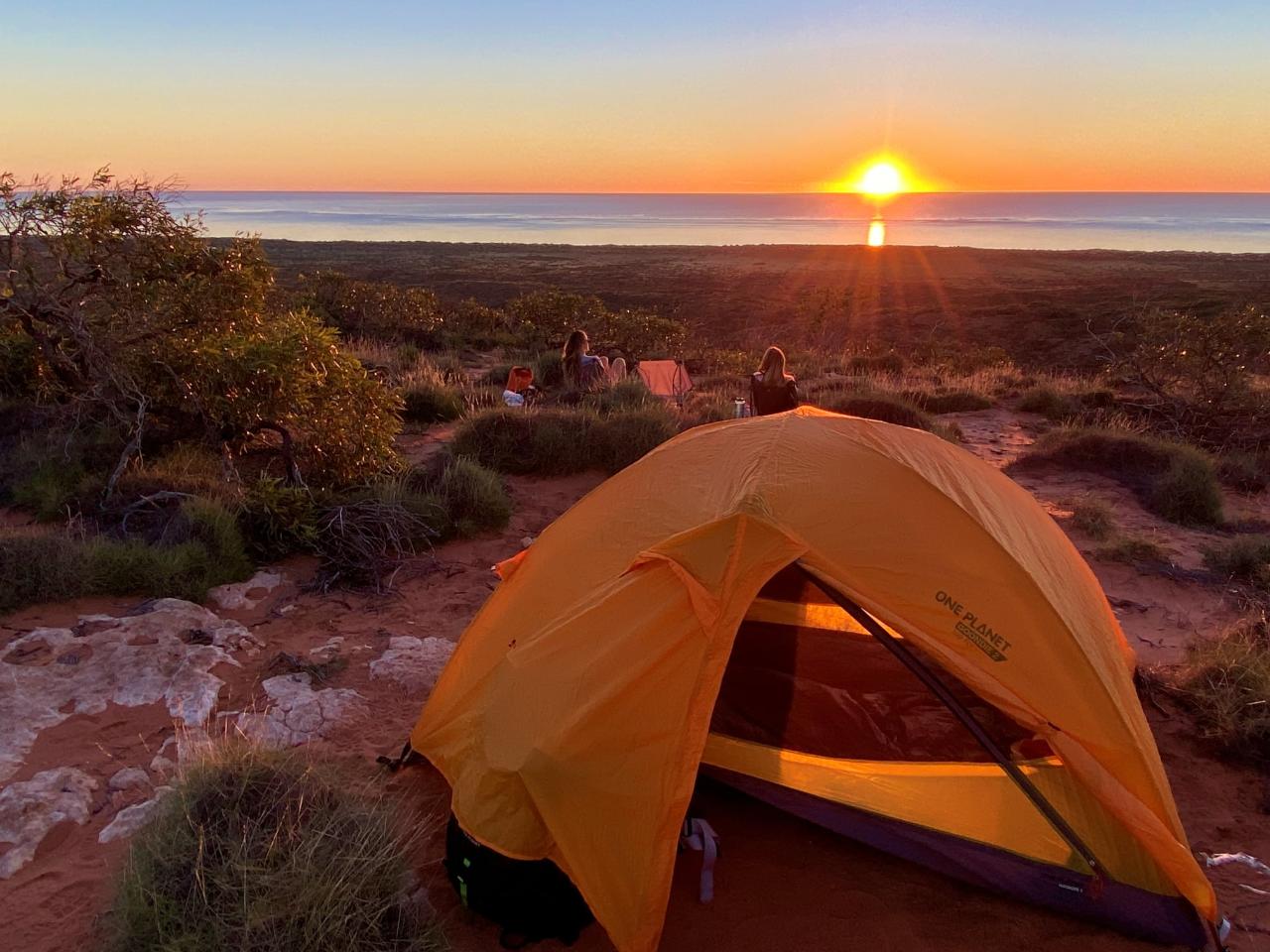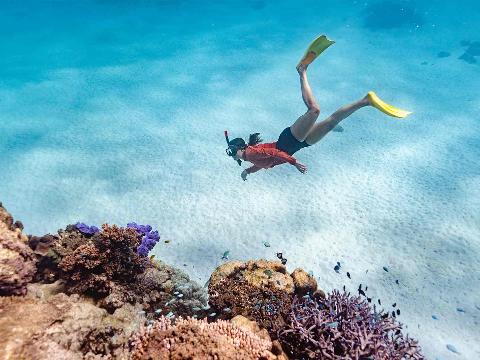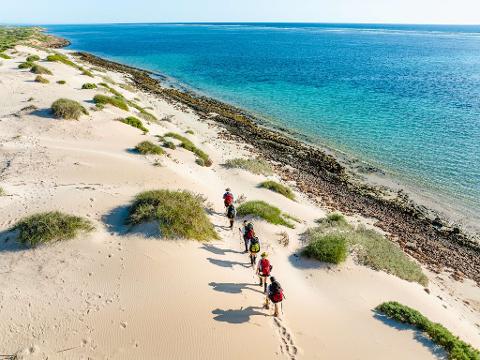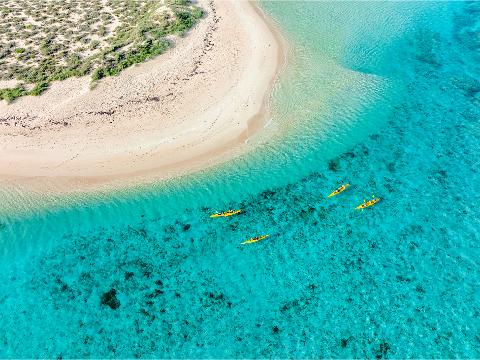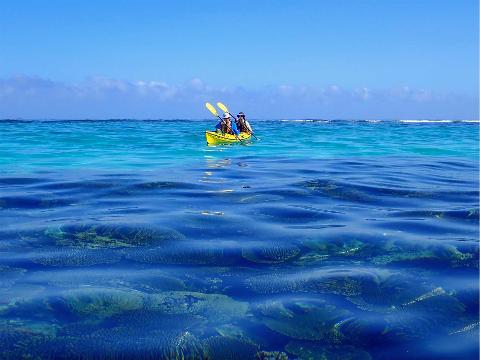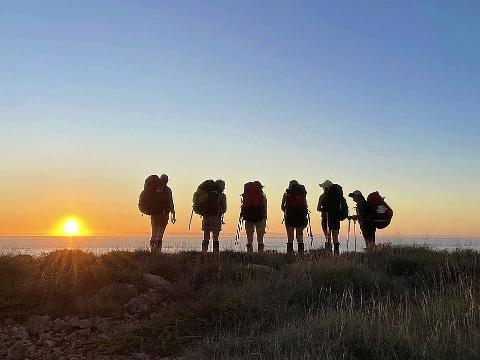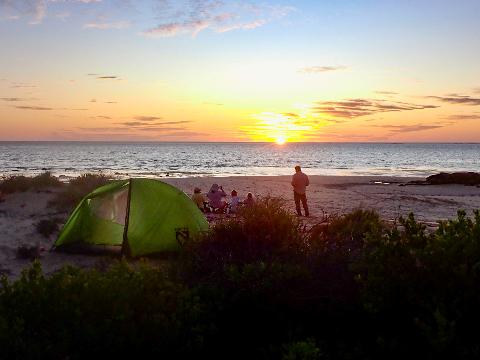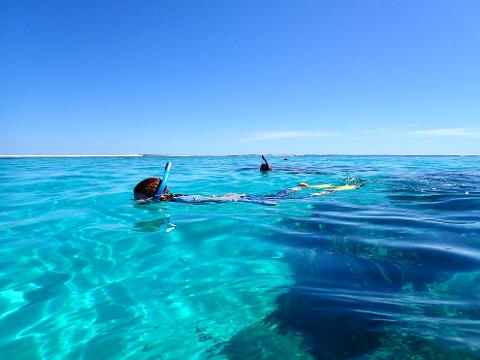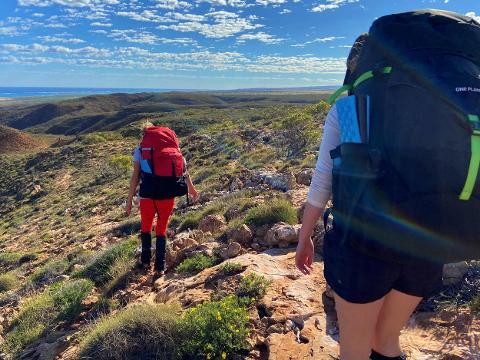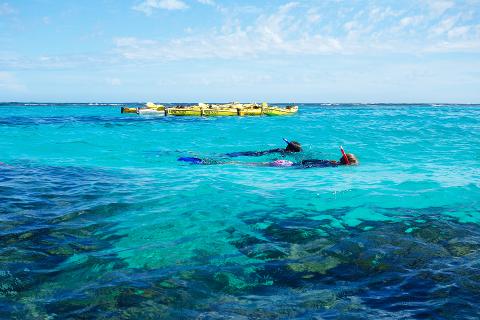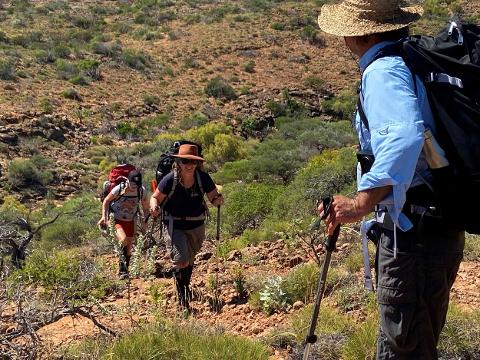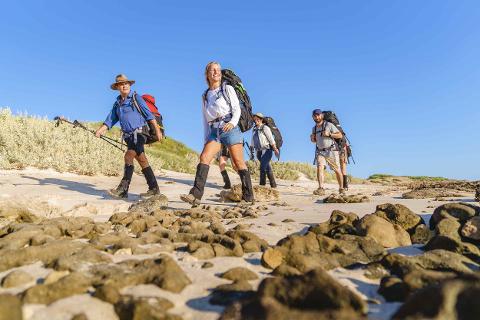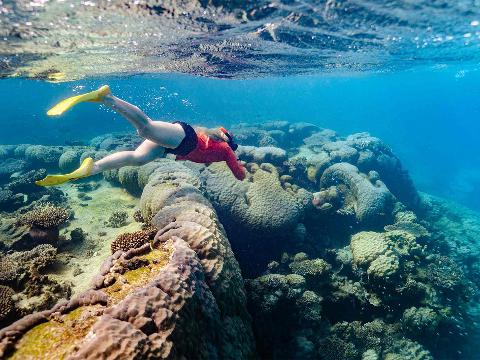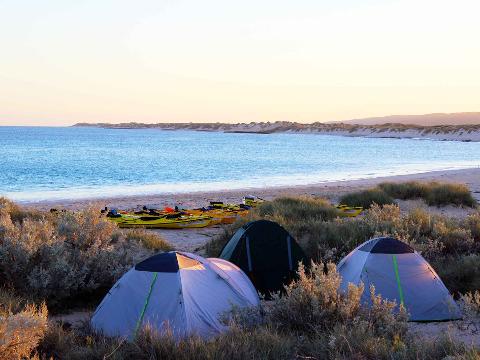 Duration: 4 Days (approx.)
Location: Exmouth, Western Australia
Product code: PPR5B0
A Collaboration Between Trek Ningaloo & Exmouth Adventure Co
Ningaloo Reef and Cape Range National Park are approximately 1260km north of Perth, Western Australia, situated on the border of the Gascoyne and Pilbara regions, adjacent to the town of Exmouth. The traditional custodians of Nyinggulu, the Yinigudera and Baiyungu people, are a saltwater people, and have over 36,000 years of history and culture along the Ningaloo Coast. In 2011, the Ningaloo Coast was inscribed on the UNESCO World Heritage List. This World Heritage listing recognises the outstanding universal value of the area's diverse and abundant marine life, it's amazing cave fauna, and the spectacular contrast between the colourful underwater scenery and the arid and rugged land of the Cape Range.
The Ningaloo Odyssey: 4 Day Trek & Kayak Expedition offers the opportunity to thoroughly explore this incredible area by land and sea. The tour begins with 2 days of guided trekking with Trek Ningaloo. Get off the beaten track and explore the upper reaches of Yardie Creek, traversing the rugged ridges and making camp high on Cape Range, overlooking Ningaloo Reef. The following day you will make your way down through hidden valleys and across the coastal plain to rendezvous with your guides from Exmouth Adventure Co mid-afternoon. It's then time to make the transition from trekking gear to sea kayaking, before paddling off into the turquoise lagoons of Ningaloo for 2 days and 2 nights of sheltered sea kayaking, world class snorkelling and secluded beach camping.
Join us for an immersive experience as we explore the Ningaloo Coast on this epic human-powered journey. Traverse the upper reaches of Yardie Creek over ancient coral formations, looking for iconic black-flanked rock wallabies, osprey and other birdlife before making camp on top of Cape Range under a blanket of stars. Sea kayak in the sheltered, turquoise lagoons of Ningaloo Reef, snorkel different amazing sites each day, and in the afternoon land your kayak at a beautiful beach to make camp amongst the sand dunes, with the waters of Ningaloo mere metres from your tent. Watch the sun set, and sleep under the stars in Cape Range National Park. Turtles, rays, dugong, dolphins, reef sharks, myriad reef fish are some of the abundant marine life that makes Ningaloo a brilliant place to kayak and snorkel. On land it's also possible to see kangaroos, wallabies, emu, goanna and birds of prey. Four days exploring Ningaloo by land and sea = an experience you will never forget!
A Brief itinerary
B = Breakfast | L = Lunch | D = Dinner | S = Snacks
Day 1: Your guide from Trek Ningaloo (TN) will pick you up from your Exmouth accommodation around 7.30am. Transfer to Exmouth Adventure Co (EAC) base for sea kayak and snorkel gear fit out, before making the journey into Cape Range National Park (CRNP) with TN.
2-Day Sunset Reef & Range trek begins L, D, S
Day 2: Trek from the heights of Cape Range to the coastal plain to rendezvous with your guide from EAC mid-afternoon to begin your 2-day 2-night sea kayak and snorkel expedition B, L, D, S
Day 3: Sea kayak and snorkel expedition B, L, D, S
Day 4: Sea kayak and snorkel expedition ends. Return to Exmouth accommodation around 4pm B, L, S
Meeting Place and Time: Pick up from your Exmouth accommodation around 7.30am on Day 1 of the tour.
Tour Pre-Requisites: Guests should have at least an average level of fitness and mobility to safely participate in this tour. This tour is suitable for guests aged 16 years and over. Guests aged 60 years or over are required to gain a medical certificate stating that they are fit to undertake the tour as described. Your trek does at times involve negotiating steep rocky gullies and rough, uneven ground; packs can weigh up to 15 kg. As we begin our trek to the top of the range in the late morning/early afternoon, daytime temperatures at certain times of the year can reach above 30°C. Ability to carry at least a 15kg share of a loaded expedition sea kayak over soft sand, with short inclines, is expected. Participation in daily camp set up and pack down is welcomed, with guests expected to set up and pack down their own tent and camping gear each day.
Trekking: This is an authentic, immersive experience, and as such, once we leave the main walking trail at Yardie Creek, we will be traversing some stunningly beautiful though rugged country. Worn-in walking boots or shoes are a must, as are a good level of fitness and agility. We will be covering a total distance of approximately 18 km - just over 7 km ascending Cape Range on day one & 10 km on day two, as we descend the Range and explore the Western Coastal Plain and Ningaloo Coastline. Here the rugged terrain dictates our pace. We take in the views, watch for wildlife and take plenty of breaks to absorb our surrounds. Trek Ningaloo provides all equipment necessary for you to enjoy your trek in comfort, including a quality backpack, sleeping system, tent, chair, cooking equipment, meals, camelback, water & refreshments, hiking poles and gaiters. All you need is to turn up on day one suitably attired for your days on the trail - as per the trekking equipment list.
Cape Range Camping: Trek Ningaloo's wilderness campsite is a true gem of the North West Cape, a red sand oasis amongst the rocky ramparts of Cape Range, overlooking the Indian Ocean and reef below. You will spend the night under the stars in a "cosy for two" two-person tent - If travelling alone, you should have plenty of room to spread out. Up here, where water is a rare (and heavy) commodity, a "wet- one's" wipe-down will have to suffice for the night's shower. However, sitting back in your comfy hiking chair, sharing cheese and biscuits and perhaps a cup of wine, you could want for nothing more.
Sea Kayaking: Each day we cover between 8 and 12km in the kayaks, dependant on the area we are exploring. The sea kayaking takes place inside the fringing reef, where the lagoon is rarely more than 3m deep - perfect for spotting wildlife and snorkelling. After your guide gives you the all-important paddling instruction and safety talk on our first day of paddling, we launch the kayaks and travel along the coast to our campsite for the first night. The following two days involve sea kayaking in the sheltered lagoon, stopping on secluded beaches for snacks and lunch as we go. We usually paddle the coastline from Osprey Bay and head north with the prevailing winds, usually finishing just north of Lakeside.
Snorkelling: Each day provides fantastic snorkelling opportunities. At some sites we land the kayaks on the beach and swim a short distance from shore ('shore-based' snorkelling), at other sites we anchor or moor the kayaks and slip over the side ('offshore' snorkelling). We visit the well-known snorkel sites such as Turquoise Bay, Oyster Stacks (depending on having a favourable tide) and Lakeside, as well as some excellent 'un-named' snorkel spots that are accessible only by kayak. The snorkelling at Ningaloo is world-class, and our guides know the best spots to go given the conditions on the day. We aim to provide a couple of opportunities to snorkel each day, dependent on the day's itinerary and weather conditions.
Beach Camping: These 4-day trek & kayak tours are perfect for the person looking to immerse themselves in the beauty of Ningaloo, enjoy nature, and get away from it all. Each afternoon we pull up our kayaks at a different beach, and, in between stories of the day, set up our camp for the night. Everything needed for a delicious meal and comfortable night's sleep is carried in in the kayaks with us. We endeavour to make your camping experience as comfortable as possible. Camping equipment supplied includes twin-share (3-person) hiking dome tents (private 'single' tents are available for a $50 single supplement), self-inflating Thermarest-style mattresses, sleeping bag and liner, inflatable pillow and camp chair. As our campsites are wilderness sites (they are completely un-developed), we are very careful to respect the fragile environment within which we are travelling, operating under a strict minimal impact ethos. We carry a portable toilet, and all of our waste is carried out with us. (We have developed a good system for this, but let's leave the particulars a surprise!). All of our fresh water is carried in the kayaks, so fresh water for washing is very limited.
After setting up camp, you may choose to go for a relaxing stroll along the beach, read a few pages of a good book, grab some snacks and a drink and settle in for a west coast sunset, or just relax and reflect on the beauty of your surroundings.
No fires are permitted at any of our camp sites, however the star gazing opportunities are second to none!
Wildlife Watching: Wildlife watching opportunities abound at Ningaloo. Black-flanked rock wallabies, Eastern grey kangaroos, goannas, dingoes, perhaps an emu or shy echidna, and myriad bird life including birds of prey may be seen on land.
Look for turtles, rays, schools of fish, and sometimes dolphins or dugong (winter months only) from your kayak. There are over 500 species of fish and 300 species of coral to marvel at whilst snorkelling, as well as the possibility of turtles, rays and reef sharks. Between June and October, we may be able to watch some of the estimated 35,000 to 45,000 Humpback whales as they make their annual migration outside the reef, sometimes putting on a show by breaching, tail or pectoral fin slapping. Osprey, terns, and Eastern reef egrets are a common sight in the coastal areas.
Please note that we don't see Whale sharks or Manta rays on this tour, as we generally sea kayak inside the fringing reef, and Whale sharks and Manta rays are swimming and feeding outside the fringing reef. There are plenty of good operators offering dedicated boat-based Whaleshark snorkelling tours in Exmouth, and Manta ray snorkelling tours in Coral Bay. We work closely with Exmouth-based Kings Ningaloo Reef Tours and Ocean Eco Adventures for Whale shark or Humpback specific tours.
Tour Inclusions:
TK - Supplied for trekking portion of the tour | SK - Supplied for Sea kayaking portion of the tour
Complimentary Exmouth accommodation pick up and drop off TK, SK
One-Planet High Plains Backpack and liner TK
Stuff bags for clothes and personal effects TK
Nalgene 1.5 L water containers TK
Sleep-system includes: Sleeping bag, Sleeping bag liner, pillow slip to stuff in your soft clothes for use as a pillow, Sea to Summit Ultralight sleeping mat TK
One Planet Goondie Mesh - Two person tent TK
Jetboil MiniMo Cooking System, plus gas canister, Cutlery, plastic mug TK
Head torch TK
Hiking poles TK
Gaiters TK
Double sit-inside expedition sea kayaks with rudder for comfortable cruising, paddles SK
PFDs (life jackets), spray skirts SK
Long sleeve sun shirts, broad-brim hats SK
Snorkelling gear: snorkel and mask, wetsuit in season SK
Gloves (fingerless paddling gloves are great for sun protection and blister prevention) SK
Dry bags for packing clothing, sleeping gear etc SK
Comfortable camping gear: twin-share tents, pillows, self-inflating mattresses, sleeping bags and liners, camp chairs SK
Healthy and delicious food, water and non-alcoholic drinks (alcohol not included, BYO welcome – no glass containers please) from snacks/morning tea on Day 1 to lunch and snacks on Day 4 TK, SK
Qualified and experienced guides TK, SK
Group first aid kit, risk management, emergency planning and communications TK, SK
Complimentary tour photos taken by your guide TK, SK
Your tour cost does not include:
· Accommodation and meals pre and post trip
· Alcoholic beverages (BYO welcome – no glass containers please)
· Flights
· Travel insurance
· Single tent supplement – if you are travelling solo and would prefer not to share with another solo expeditioner of the same sex, or if there is no compatible option to share, the supplement for a single tent is $50. You are welcome to bring your own lightweight, hiking style tent to avoid the single supplement, as long as it is compact and will be appropriate for the trip (please provide details of the tent to confirm)
· Single kayak supplement – If you would like to book a single kayak for exclusive use for the duration of the tour, a single kayak supplement of $100 applies. Please note that this option is subject to availability and a maximum of 2 guest single kayaks are available. You may be asked to provide evidence of past multi-day experience successfully paddling a fully loaded single expedition sea kayak in a variety of sea conditions for this option
Fitness level: This tour is suitable for those with at least an average level of fitness and mobility, and prior camping, hiking and kayaking experience. Your trek does at times involve negotiating steep rocky gullies and rough, uneven ground; packs can weigh up to 15 kg. As we begin our trek to the top of the range in the late morning/early afternoon, daytime temperatures at certain times of the year can reach above 30°C. Group members will be asked to assist in carrying at least a 15kg share of loaded sea kayaks up and down the beach each day, sometimes over soft sand with short inclines, and helping to carry group gear to and from the kayaks each morning and afternoon.
Equipment & clothing - what you need to bring: Your personal gear requirements may be slightly different for the two different sections of this tour – there will be the opportunity to swap gear over and either pick up extra gear or leave gear behind at the transition point between trekking and sea kayaking. We recommend having your gear pre-organised to make this transition as seamless and efficient as possible.
Please ask for our Ningaloo Odyssey Trip Notes for detailed Gear Lists.
Cancellation Policy:
This tour has a 30-day cancellation policy. Cancellations made within 30-days of tour departure will incur 100% of tour cost. Cancellations made outside of 30 days will receive a full refund, minus any credit card surcharges or processing fees.