Summer Sunset Turtle Watching Tour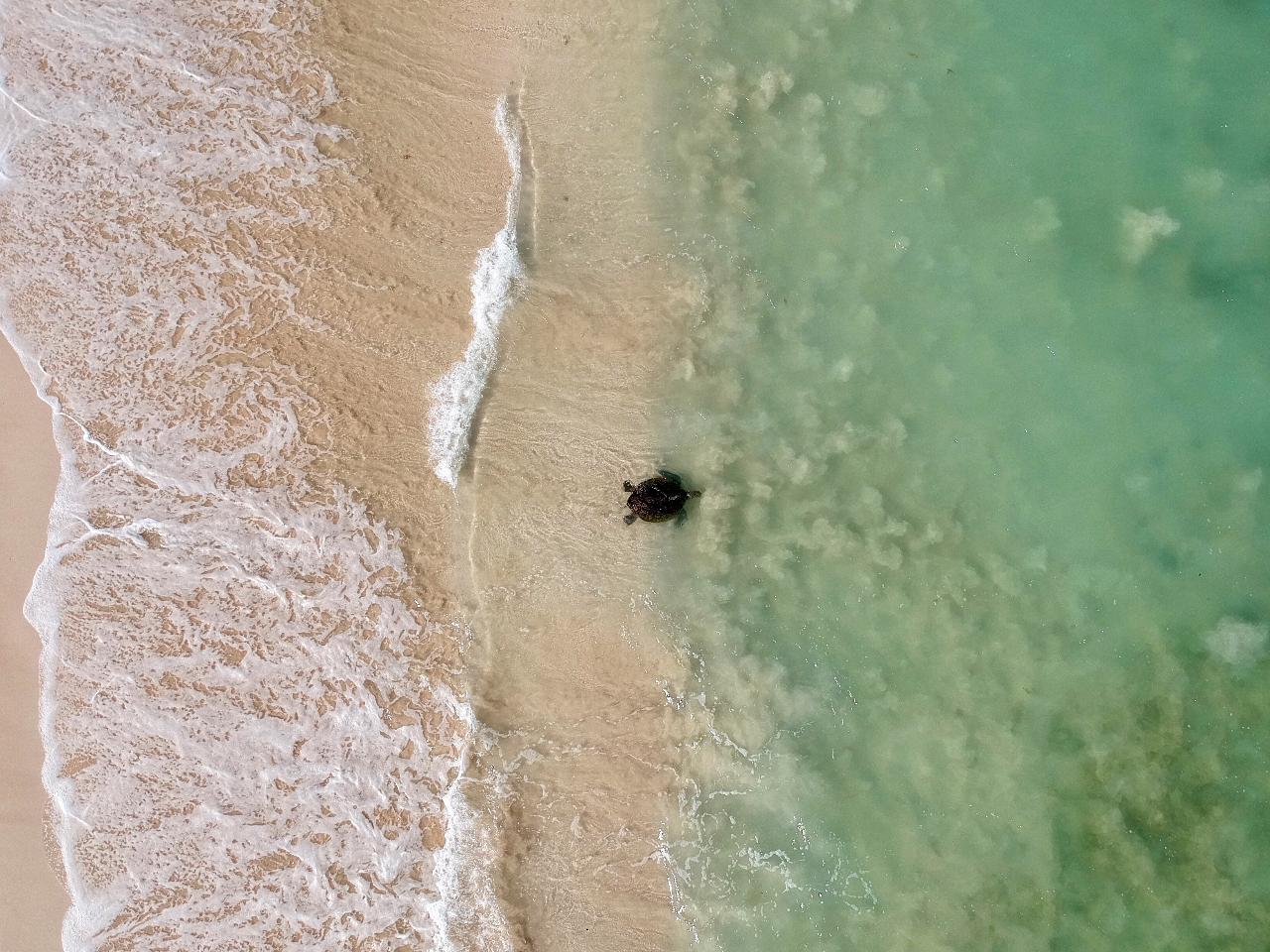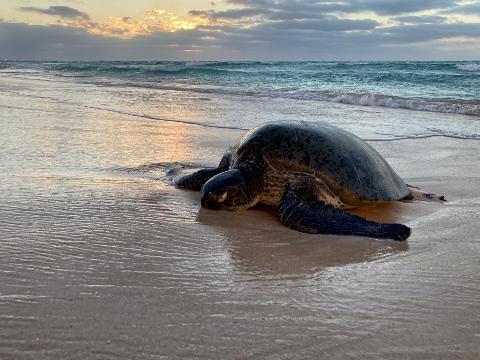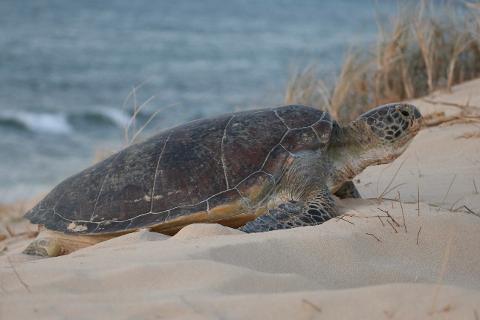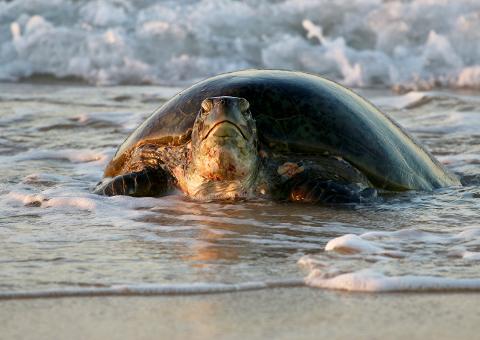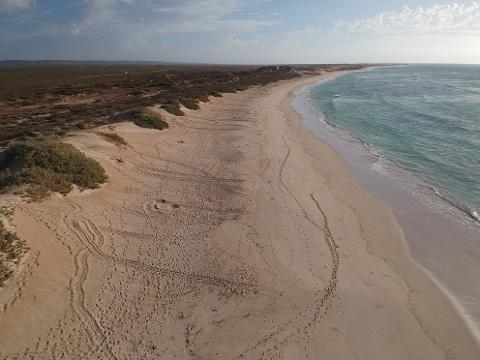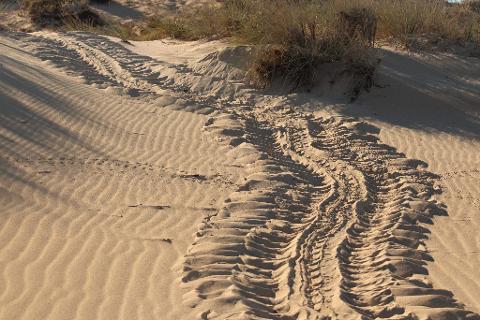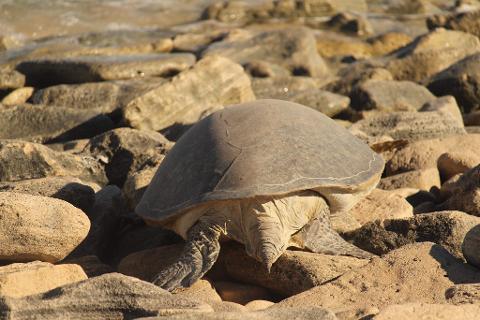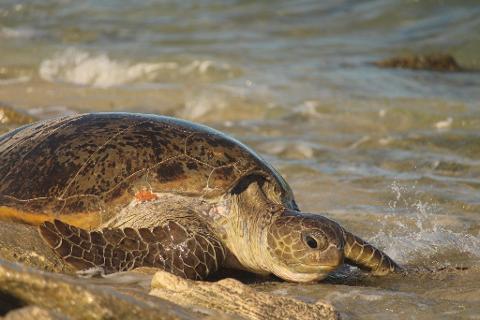 Duration: 4 Hours (approx.)
Location: Exmouth, Western Australia
Product code: P8G0MQ
Accompany our experienced and informative guides for an evening of turtle watching and star gazing in the Jurabi Coastal Park, situated on the World Heritage Listed Ningaloo Coast.
Enjoy a light snack and cool drink as you watch the sunset and learn about one of the world's most important turtle rookeries, the turtle watching 'Code of Conduct', and how you can become an ambassador for the conservation of marine turtle species world-wide.
Following sunset, we move out onto the beach to put all of our new-found knowledge into practice, as we attempt to observe the nesting habits of female turtles.
There will also be the opportunity to enjoy some of the world's best stargazing in the unspoiled dark skies of Ningaloo (dependent on the phase of the moon).
This is a fully guided tour; your guides will be with you every step of the way. You will need an average level of fitness and mobility for 'commando crawling' on the beach for viewing nesting turtles close up, however if you choose not to participate in this activity, you can simply observe from further away.
Highlights:
· Attempt to observe the nesting habits of Ningaloo's marine turtles in an environmentally sensitive way
· Enjoy star gazing in the unspoiled dark skies (dependent on moon phase)
· Learn how you can become a 'turtle ambassador', and help our guides collect valuable data on turtle nesting activity on the Ningaloo Coast
· Sunset viewing with drinks and nibbles prepared by your guide
· Small group tour, with a maximum of 10 participants
Tour Inclusions:
· Qualified and informative guide
· Snacks and a beverage to enjoy while watching the sunset
· Binoculars and star maps for star gazing
· Red lights for viewing wildlife at night without disturbance
· Pick up/drop off from your Exmouth accommodation
Guests Bring:
· Drinking water
· Enclosed footwear (this is essential, as we are walking around on the beach at night) and a jumper
· Please come dressed in clothing suitable for crawling on the beach in sand
Please Note:

· No artificial light is to be used during the turtle nesting portion of this tour. This includes phone/camera screens. Your guide will have a red light to use, this minimises disturbance to wildlife
Other Info:
Minimum number of people for tour departure to be confirmed: 6 people
Minimum age: 5 years old
Ability to crawl on sand is recommended to fully enjoy this tour
Tour is operated in English only. Participants must be able to understand English instructions
Cancellation Policy:
Exmouth Adventure Co has a 72 hour cancellation policy. Cancellations made within 72 hours of tour departure will incur 100% of tour cost. Cancellations made outside of 72 hours will receive a full refund, minus any booking or credit card fees paid.
Exmouth Adventure Company tours are subject to weather conditions and minimum numbers requirements. EAC reserves the right to cancel due to weather conditions, if minimum numbers have not been met, or for other unforeseen circumstances. Every effort will be made to re-schedule if this is the case, otherwise a full refund will be issued.
FAQ:
Is this tour family friendly?
Yes, this is a recommended tour for families to enjoy together as it is suitable for the whole family. However, observing nesting turtles can require us to be patient and sit relatively still to be successful, so 5 years old is our minimum age for children.
How many people will be on the tour?
We will run the tour with a minimum of 6 people, and usually have no more than 10 people. We can cater for larger groups and provide customised tours, please contact us for more info.
What if I am physically unable to crawl in the sand?
If you are unable to crawl in the sand to watch a nesting turtle lay her eggs up close, it is possible to observe from further back without crawling.
Do I need to bring a torch to enjoy this tour?
No, we won't be using torches on this tour, as artificial light can disturb the natural behaviour of nesting turtles. Your guide will provide a red light for the group, which minimises disturbance to wildlife.
Can I bring my camera or phone to take photos?
Yes, the sunset is definitely worth taking photos of. However, once we walk onto the beach, we recommend leaving your phone or camera locked securely in our van. This is because we will be crawling through the sand, and the artificial light of your phone or camera screen could potentially disturb the nesting activity of the turtles. If you must bring your phone, you will need to download a red light app, so your screen emits a red light to minimise disturbance.
Why do I need to wear enclosed footwear?

We will be walking on the beach in the dark, where there is a risk of stepping on sharp objects like shells, rocks, coral debris and vegetation. It is non-negotiable that our guests and guides wear enclosed footwear - if you happen to injure your foot during this tour, we would have to use an artificial light source to assess and treat your injury, which would compromise the rest of the tour.