Dampier Archipelago and Murujuga National Park - Sea Kayak Expedition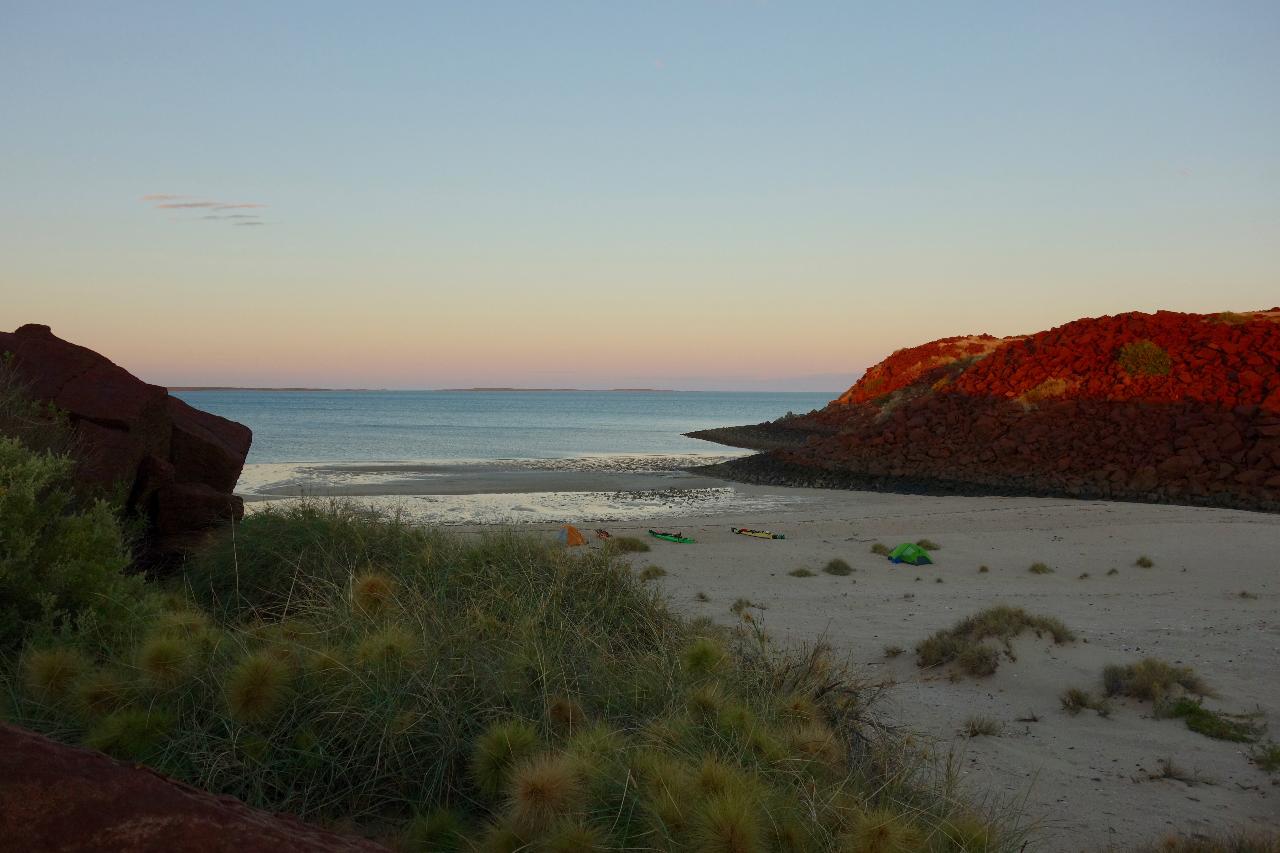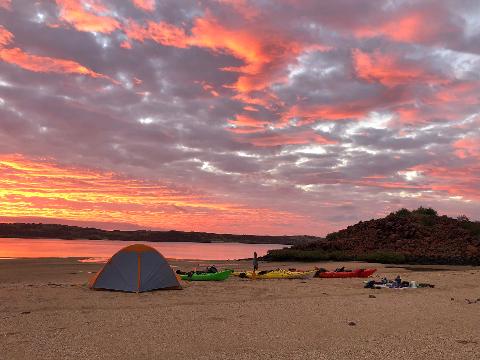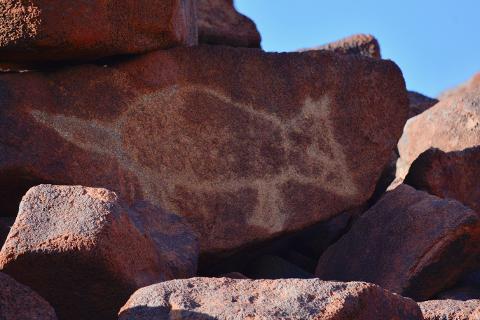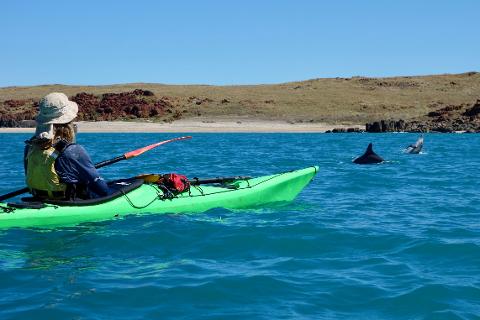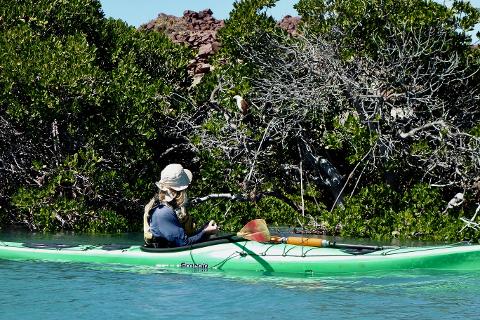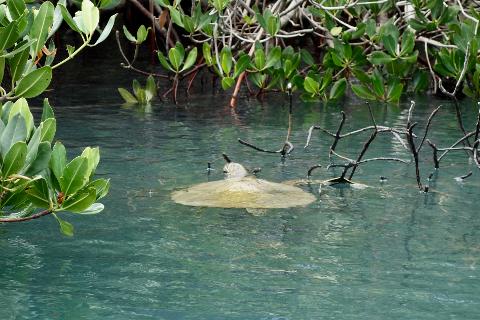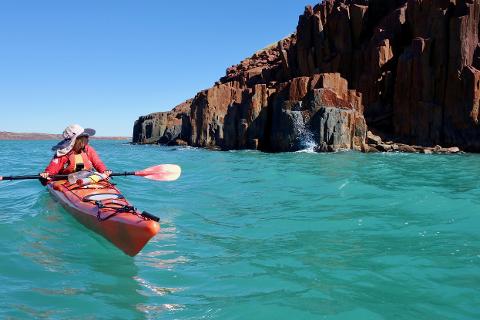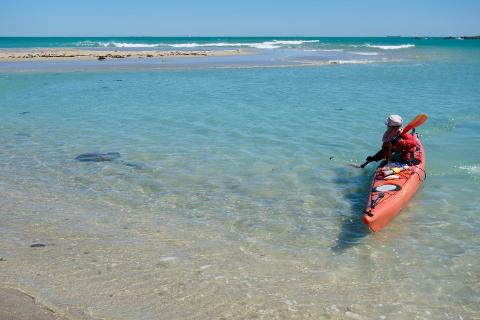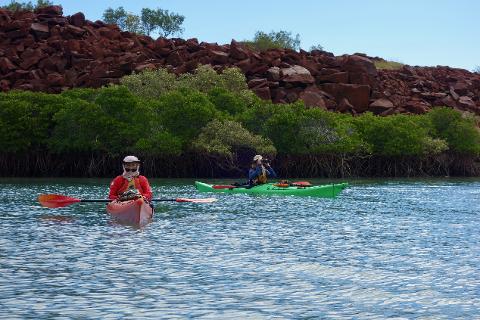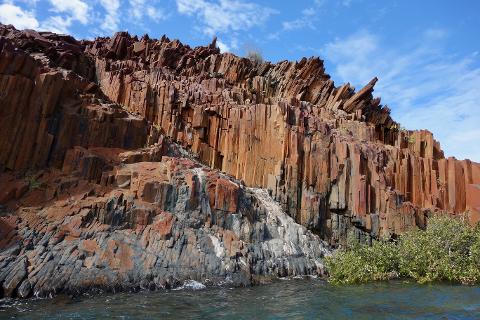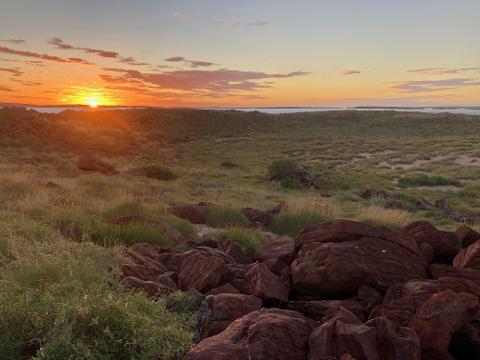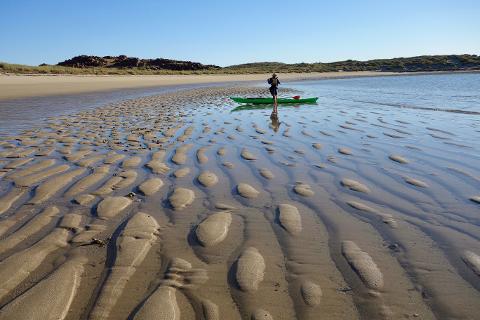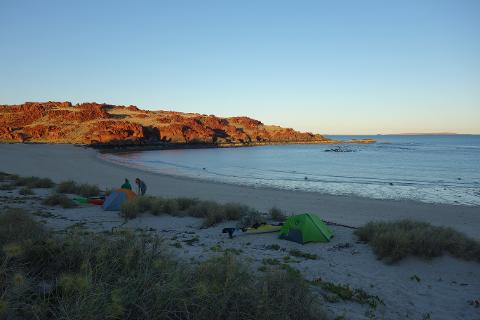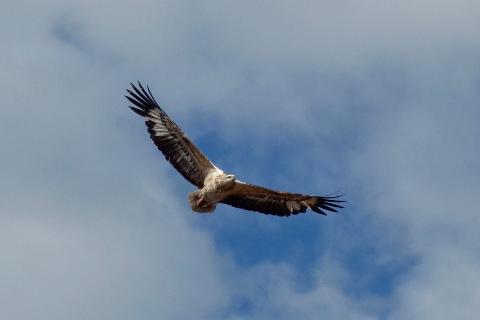 Duration: 5 Days (approx.)
Location: Exmouth, Western Australia
Product code: P5PQJJ
Tour Type: Sea Kayaking and Expedition (Wilderness) Camping
Duration: 6 days, 5 nights
2023 Dates: August 13 - 18 and August 27 - September 1, 2023
Location: Dampier Archipelago and Murujuga National Park, Pilbara Region, Western Australia
Retail: Adults $2400
Children (14 – 17) $2160
Prices above are based on twin-share. Additional optional supplements include a $100 single supplement for a private (solo) tent (limit 6 per departure), and $100 for exclusive use of a single kayak for the duration of the tour (limit 4 per departure).
Tour Meeting Point: Pick up from KTA (Karratha Airport) at 3.15pm (Perth to Karratha flight arriving at 3.15pm) on Sunday August 13 or Sunday August 27, OR pick up from central Karratha city meeting point at approx 3.45pm.
Tour Pre-Requisites: Due to the remote location of this tour, and the variety of paddling conditions we may experience (including tidal currents, wind and swell), this tour is only available to guests who have previously participated in a multi-day sea kayaking tour or expedition. Participants must be capable of carrying at least 15kg (share of a loaded sea kayak) over 200m, and entering and exiting a sea kayak when launching and landing independently and expediently when required.
Participation in daily camp set up and pack down is welcomed, with guests expected to set up and pack down their own tent and camping gear each day.
Tour Description:
The Dampier Archipelago supports one of the most diverse marine environments in Western Australia, and along with the Burrup Peninsula, contains the densest collections of indigenous rock art in the world. Our guides describe the Dampier Archipelago as a sea kayaking paradise, with numerous islands, tidal channels, mangrove creeks and sweeping beaches to explore. The combination of a checkered European history, incredible cultural landscape and diverse marine ecosystems make this tour one not to be missed!
This exciting new offering is available for two departure dates in 2023: August 13-18 and August 27 to September 1. An expedition-style tour for guests who have prior sea kayaking experience, you will spend 5 days and 4 nights exploring the Dampier Archipelago Islands. The focus area of this tour is the islands immediately to the north of the Burrup Peninsula and Murujuga National Park: Angel, Gidley and Dolphin Islands, and Flying Foam Passage.
Sea Kayaking: This is an expedition-style sea kayaking tour, meaning that we carry all of our food, water, camping gear and personal effects in the kayaks with us for 5 days. Unlike some other sea kayak expeditions run by Exmouth Adventure Co, there is no opportunity for re-supply on this tour. Our sea kayaks are double Eco Niizh expedition kayaks, and there may be a small amount of single Eco Behzig sea kayaks available on request (subject to availability and tour numbers).
Each day we cover between 8 and 16km in the kayaks, dependant on the area we are exploring. The exact itinerary for each tour will vary depending on the wind, swell and tidal conditions that are forecast. You can expect to encounter a variety of sea conditions, from serene mangrove creeks to strong tidal currents, to rolling swell as we explore the islands.
Snorkelling: Snorkelling is not a focus of this tour, however we do provide snorkelling gear for our guests, and if the opportunity presents itself we may be able enjoy a snorkel at some sites.
Expedition Camping: The sites that we use on this tour are publicly accessible 'wilderness' camp sites on Angel, Gidley and Dolphin Islands. Exmouth Adventure Co operates under a strict 'minimal impact' ethos – we pack all of our waste out with us (yes, even human waste). There are no facilities at any of the campsites, and Exmouth Adventure Co supplies all of the gear that you will need to ensure that your camping experience is as comfortable as possible: twin-share (3-person) hiking dome tents (private tents are available for a $100 single supplement), self-inflating mattresses, sleeping bag and liner, inflatable pillow, camp chair etc. No fires are permitted at any of our camp sites, however the star gazing opportunities are second to none!
Wildlife Watching: Between June and September, humpback whales are commonly seen in the Dampier Archipelago whilst migrating between their Antarctic feeding grounds and Kimberley calving grounds. Four species of turtles (flatback, hawksbill, loggerhead and green) can be seen in the area, with flatback, green and hawksbill turtles nesting on several of the outer islands.
Osprey and white-bellied sea eagles are a common sight, and if you look carefully you may be lucky enough to spot the shy Rothschild's rock wallaby on some of the larger islands.
Tour Itinerary:
Day 1 SUNDAY
Guests fly into Karratha (KTA) airport at 3.15pm. Exmouth Adventure Co (EAC) staff will meet you at Karratha airport arrivals area, and after a brief stop in town for any last-minute essentials, transfer you to our campsite (in Dampier town) for the night.
For guests arriving in Karratha a day early, pick up can be arranged from a central Karratha city location at 3.30-3.45pm.
For guests already in Exmouth, EAC can provide a transfer from Exmouth to Karratha, departing at 8am on Day 1, for a cost of $200/person.
Upon arrival at our campsite, your guides will ensure you are familiar with your camping equipment, and we set up tents for the night. At approximately 6.30pm we'll head to a local restaurant for a group dinner (at own expense), where we can discuss the plan for the next 5 days.
Meals included: At own expense
Day 2 MONDAY
8am: This morning we head to the Murujuga Aboriginal Corporation (MAC) at 8am to participate in a Cultural Awareness presentation, followed by a rock art tour at Ngarjarli. The presentation will provide guidance on how to be culturally safe and enjoy the wonders of Murujuga; provide an insight to the history and management of the area, as well as the opportunity to yarn with one or more of the indigenous rangers.
At the conclusion of the rock art tour, we take the 15-minute drive to our expedition launch point. Your guides have a lot of talking to do today, as the group navigates getting the kayaks and gear packed and prepped to be self-sufficient for the next 5 days. Following a paddle briefing and safety talk, we'll launch our kayaks and head north towards Flying Foam Passage. Along the way we may stop to look at some more incredible examples of rock engravings, before we arrive at our campsite for the night.After setting up camp there may be time for a swim, snorkel or some beach combing before we start dinner prep for the evening meal. Enjoy your first night of island life under the stars!
Meals included: Breakfast, Lunch, Dinner, Snacks
Day 3-5 TUESDAY to THURSDAY
The prevailing weather conditions determine the exact itinerary for this tour: every tour will be different depending on the forecast wind, tide and swell. Luckily there is plenty to explore amongst the Dampier Archipelago Islands: shallow mangrove habitats alive with juvenile turtles and baby reef sharks, jumbled rock piles etched with thousands of years of artwork, sandy coves and turquoise water tucked amongst towering cliffs, and remains of early European pearling operations are some examples.
Meals included: Breakfast, Lunch, Dinner, Snacks
Day 6 FRIDAY
We pack up our tents for the last time this morning and begin the paddle back to the mainland. We aim to arrive back at our launch site by noon at the latest, to allow ample time to unpack our kayaks, load them on the trailer and return to our original town campsite to pick up extra luggage, have a shower if time permits, and head to the airport at 3pm for the 5pm Qantas Karratha to Perth flight, or your pre-booked Karratha accommodation (at own expense).
Meals included: Breakfast, Lunch, Snacks
Tour Inclusions:
Cultural Awareness presentation and rock art tour delivered by Murujuga Aboriginal Corporation indigenous rangers
Complimentary airport pick up/drop off and Dampier town camping accommodation on Day 1
Double sit-inside sea kayaks with rudder for comfortable cruising, paddles
PFDs (life jackets)
Long sleeve sun shirts, broad-brim hats
Snorkelling gear: snorkel, mask and fins
Gloves (fingerless paddling gloves are great for sun protection and blister prevention)
Dry bags for packing clothing, sleeping gear etc
Comfortable camping gear: tents, pillows, self-inflating mattresses, sleeping bags and liners, camp chairs, shade shelter
Healthy and delicious food, drinks (alcohol not included, byo welcome). Due to the off grid nature of this tour, some meals towards the end of the tour may be dehydrated
Transport to and from KTA Karratha Airport
Qualified and experienced guides
Complimentary tour photos taken by your guide
Guests Bring:
Drinking water bottle (capacity for at least 1 L)
Sunglasses (polarised are great for seeing under the water)
Sunscreen, zinc or SPF lip balm. Please consider using 'reef safe' sun protection products
Bathers/boardshorts, surf tights or sarong for sun protection on legs
Camera (spare batteries, power bank)
Towel or sarong
Footwear that may get wet (crocs are our guide's footwear of choice, sports sandals or reef shoes will also work). Thongs/flip flops are not suitable for this purpose.
Head torch (spare batteries)
Drinks for sunset happy hour. Note: NO GLASS please. Drinks must be in cans, plastic or cardboard containers, and can only be kept cold for the first one or two nights
Camp clothes. Please pack warm clothes for cool nights. Camp clothes should include as a minimum: 1 pair of shorts and 1 pair of warm long pants; 1 x T-shirt and 1 x warm fleece; beanie and warm jacket/puffy (August can have some cool, clear nights); 1 pair of shoes and socks for around camp; rain jacket/wet weather gear (not often required at this time of year in the north-west, but if you don't bring it, you know what will happen! Your guide can give you information on the expected weather conditions on the day prior to departure); something to sleep in, underwear etc.

Toiletries should include insect repellant, and (biodegradable) wet wipes or a flannel that you can wet with a little fresh water for a wash. Please keep in mind that fresh water is prioritized for drinking and cooking (we carry all of our water for 5 days in the kayaks with us), and little to no fresh water may be available for personal washing.
Other Info:
Minimum number of people for tour departure to be confirmed: 4 people
Maximum number of people on the tour: 12 guests plus guides and volunteers
Minimum age: 14 years old
Maximum weight per person: 110kg
Fitness level: This tour is suitable for those with at least an average level of fitness and mobility, and prior experience participating in a sea kayaking expedition. Group members will be asked to assist in carrying loaded kayaks up and down the beach each day, and helping to carry group gear to and from the kayaks each morning and afternoon. Participants must be able to embark and disembark their kayak independently in an efficient manner.
Tour is operated in English only; participants must be able to understand English instructions for safety purposes.
We will need to collect some personal information from you to ensure that we provide the correct gear: this includes your height, weight, clothing size and shoe size.
Cancellation Policy:
Exmouth Adventure Co has a 30-day cancellation policy. Cancellations made within 30-days of tour departure will incur 100% of tour cost. Cancellations made outside of 30 days will receive a full refund.
Exmouth Adventure Company tours are subject to weather conditions and minimum numbers requirements. EAC reserves the right to cancel due to weather conditions, if minimum numbers have not been met, or for other unforeseen circumstances. Every effort will be made to re-schedule if this is the case, otherwise a full refund will be issued.
FAQ
I'd like to bring the whole family. Is this tour suitable for kids?
Minimum age for this tour is 14 years old, due to the remote location and the physical aspects of the tour.
I'm not a strong swimmer, and have never snorkelled before. Am I able to join this tour?
All levels of swimming ability are welcome. All of our guests wear PFDs (lifejackets) whilst kayaking and are welcome to wear them whilst snorkelling if needed. However, as there can be some strong currents in this area, if you are not a confident swimmer/snorkeller, our guides may ask you to refrain from going into the water at some locations.
How many people will be on this tour?
We need a minimum of 4 people to confirm tour departure, and take a maximum of 12 guests, plus guides and volunteers.
How far will we kayak each day? Do I need to be an experienced sea kayaker?
Prior sea kayaking experience is required to participate in this tour. We usually paddle anywhere between 8 and 16 kms over the day, depending on how the group is travelling and prevailing weather conditions. There may be some longer days if the conditions require it. The daily itinerary is designed to make the most of the conditions on the day. We make stops on the beach for lunch, and to view points of interest.What style of camping will I experience?
This tour is 'expedition' style, meaning we carry all of our gear (including food and water for 5 days) with us in the kayaks, and set up camp at a different location each day. We provide all the gear to make you as comfortable as possible: quality tents, self-inflating mattresses (Thermarest-style), sleeping bags and liners, inflatable pillows, camp chairs. The campsites we use are un-developed with no established facilities; we carry a portable toilet with us. Access to fresh water for washing is very limited as we carry all our fresh water in the kayaks.
I'm vegetarian/gluten free/have allergies. Can you cater for this?
Yes, as long as we have ample notice, it is no problem catering for specific dietary requirements, intolerances and allergies. There is a $5 per person per day surcharge for specific dietary requirements such as: vegan, gluten free, FODMAP etc. This is due to the extra costs incurred in buying and ordering specific foods in remote NW Australia. No extra charge for vegetarians.
How can people contact me while I'm on the tour?
There is limited mobile phone reception in the tour area, we carry a satellite phone for emergencies. This is usually reserved for outgoing calls only (to preserve battery life). If you need to be contacted urgently, our office can be contacted on 0477 685 123, and if necessary, our emergency plans can be actioned to deliver a message.
Can I recharge my devices whilst at base camp?
We are completely off-grid on this tour. We recommend bringing spare batteries for camera and Go Pros, and switching your phone to 'flight mode' to save battery. If you have a small power bank or solar charging device, these can be handy to bring to recharge your devices if necessary.
How To Book:
Online via our website:
Via email: info@exmouthadventureco.com.au
Call us: 0477 685 123